Burnout Syndrome And Symptoms. The "Burnt Worker."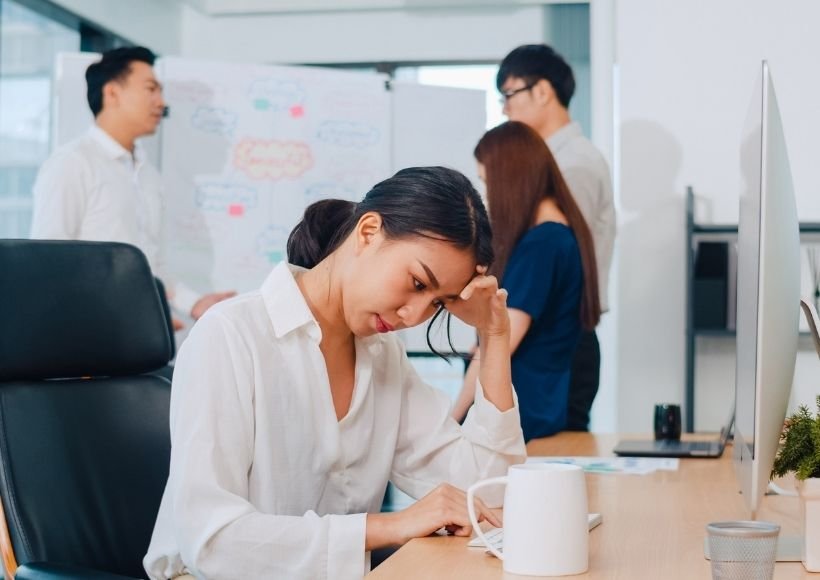 Burnout syndrome, also known as burnt-out syndrome,  is a state of chronic work stress. Its effects are harmful and complex since they affect both the worker and the company without neglecting the work environment. Therefore, we are talking about a threat to the worker and the company. 
How does burnout syndrome arise?
Although there is no single pattern for a worker to suffer from this disorder, the truth is that the work environment and working conditions are usually the triggers. We would therefore speak of professional contexts in which there is an overload of work, high levels of stress, and little autonomy on the part of the worker. Unhealthy relationships with colleagues or superiors will usually be added to this. They will worsen whenever there is also poor organization, or the worker suffers from a lack of support or insufficient training. In short,  burnout is experienced as a situation in which the worker stops identifying with his functions due to the emotional and physical exhaustion he suffers and reduces his performance. 
Since 2019, the  World Health Organization (WHO)  has recognized  burnout  as a disease. It is expected that in 2022 it will become part of the International Statistical Classification of Diseases and Related Health Problems (ICD-11) as a problem associated with employment (or unemployment). It will be considered a work-related illness, and therefore it will be an essential item on the companies' Occupational Risk Prevention agenda. 
Symptoms to identify burnout syndrome
Burnout manifests itself at different levels: psychological, physical, and social. Here are the main associated symptoms: 
Indifference. Gradually, the worker loses the emotional ties that bind him to his company and his professional activity, giving way to a relationship of boredom that will decrease commitment. 
Demotivation. Demotivation arises when the worker feels that his effort does not obtain a reward. Suppose the work overload prevents him from achieving the objectives set or the lack of tasks makes him feel useless. In that case, he will inevitably think that his figure is not following the need that the company hopes to cover with his position. 
Low self-esteem. The worker victim of burnout does not feel valued by the company and also little by little stops respecting himself; he does not fit into the context in which he develops his professional activity, he is not up to what is asked of him, perhaps he receives constant criticism… in the face of all this, his self-esteem and his security are inevitably diminished. 
Low performance. Based on the above, it is easy for the worker to find it difficult to concentrate, not feel safe and close emotional ties with the project, make mistakes, and reduce effort. The situation may arise that he feels far from the efficient worker he was before and does not know how to get back to that point. This introduces him to a vicious circle from which it is difficult to get out and in which his performance is diminished. 
Impatience and irritability. These two attitudes usually stem from discomfort towards the company or his superiors and towards himself and his employment situation. It is common for the burnt-out worker to have a perspective that is not very patient and sometimes even aggressive, mainly affecting his colleagues and, in jobs facing the public, his clients. 
Poor communication. Based on the above, it is easy for contact with the worker suffering from burnout not to be fluid in any of the directions: possibly the information received is processed in a biased way due to the situation of discomfort in which they find themselves. For this same reason, it is possible that you will not be able to communicate adequately with colleagues, clients, or superiors in many cases. 
Mental exhaustion. The sum of all of the above will cause the worker to suffer stress, and anxiety, which will be associated with feelings of failure or impotence, discomfort, frustration… and can lead to disorders such as insomnia or depression. 
Physical exhaustion. All psychological discomfort tends to manifest itself physically. In the case of burnout,  the symptomatology is very varied, and each individual can manifest itself differently. Some suffer persistent physical exhaustion, muscle aches or headaches, tachycardia, skin irritations, alterations in menstrual cycles (in the case of women), or gastrointestinal, and it is even possible that several of these symptoms converge. In any case, we will recognize it through physical anomalies associated with the worker's state of stress or discomfort. 
Work absenteeism. The general situation of the worker is one of discomfort, physical, psychological, and social elements converge, which prolonged over time will have very detrimental effects on their health, so, depending on their severity, it is easy for them to cause medical leave. 
It is possible that some of the symptoms associated with burnout syndrome are not unrelated to a good percentage of  workers. According to Cigna's "360º Wellbeing Survey 2020" annual report,  45% of the active population in World suffers from stress at work. Work should raise alarm bells if we are trying to prevent burnout. 
The leading companies in terms of sustainability are working today to achieve social sustainability in their workforces, that is, the search for the well-being of the organization and promotion of their abilities to maintain a healthy organization. This objective places employees at the center of the company as one of its main assets and therefore makes it an essential requirement to ensure the health and well-being of the teams and actively prevent burnout from its first manifestations. 
Also Read : Professional Skills, If You Don't Develop Them, You're Not Worth It.