VanceAI Art Generator Enables Individual Expression.
Do you want to bring your ideas to life via appealing visual art? In VanceAI. look no further than the VanceAI Art Generator. This cutting-edge AI technology transforms text into attractive graphics by emulating different artist styles and providing an aesthetic ambience. VanceAI Art Generator enables you to explore your creative potential and produce awe-inspiring artwork with its breadth of customizing choices, HD support, copyright ownership, and data security guarantee. Prepare to start on a creative and expressive adventure with this amazing tool.
Transforming Text into Visual Works of Art
Do you wish to convert your concept into a piece of art? VanceAI Art Generator is here to help make it happen. This incredible application can convert ordinary words into aesthetically spectacular masterpieces with only a few clicks. VanceAI Art Generator allows you to express your creativity in a variety of ways, whether you want to make drawings, paintings, or digital artwork.
AI Emulation of Artistic Styles
VanceAI Art Generator uses artificial intelligence to mimic numerous creative styles. This AI-powered application can produce pictures that closely approximate the style you choose, from historical paintings to current abstract art. VanceAI Art Generator has you covered whether you want your artwork to have the brushstrokes of a great artist or the aesthetics of a certain art trend.
Creating Your Own AI Artwork
You have total freedom over creating your AI artwork using VanceAI Art Generator. To obtain the required appearance and feel, you may experiment with various creative prompts, art genres, and styles. The modification choices are limitless, whether you want to create a vivid and colorful composition or a delicate and minimalist design.
High-Definition Support for Stunning AI Drawings
VanceAI Art Generator provides high-definition (HD) output, assuring the finest quality AI drawings. On the AI picture generator workspace, you may change the image size to acquire the appropriate quality for your artwork. Whether you wish to print your designs or display them digitally, VanceAI Art Generator will produce crisp, detailed, and aesthetically appealing results.
Take Control of Your Copyrighted Artwork
You don't have to worry about copyright concerns when you use VanceAI Art Generator to make art. You hold the rights of the AI drawing, providing you total ownership and the flexibility to use your artwork for any reason. Whether you want to sell your inventions, post them on social media, or use them for personal projects, you have the freedom to do so.
Assurance of Data Security and Privacy
Your data security and privacy are of the highest concern to VanceAI. When you utilize VanceAI Art Generator, you can be certain that your AI-generated pictures and data will be treated with care. All AI-generated photos made on the workspace are immediately erased after 24 hours, protecting your artwork's anonymity and security. You may create with confidence, knowing that your works are safe.
Simple instructions for creating visual art using VanceAI Art Generator.
Step 1: Go to the VanceAI Art Generator webpage to access the workspace.
Step 2: Enter a description of what you want this image to look like, then click "create."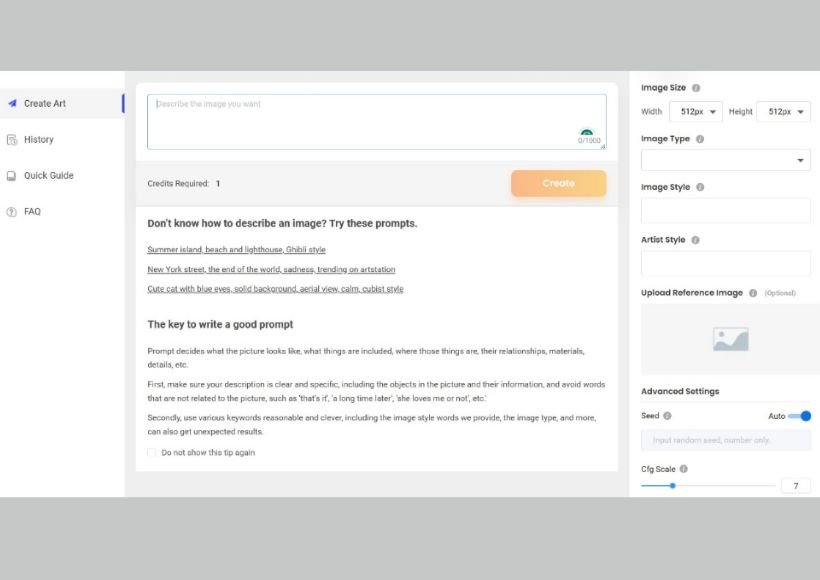 Step 3: If you like the preview, save it to your device.
VanceAI Information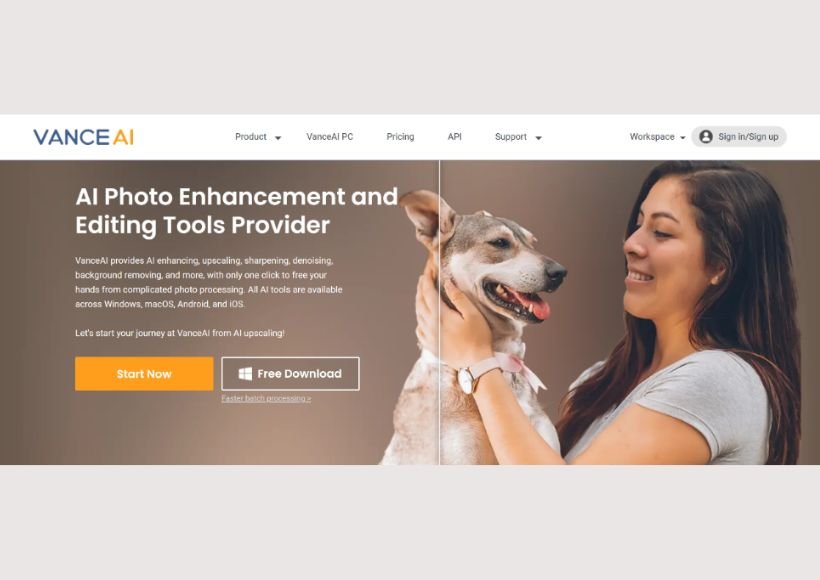 VanceAI is the best artificial intelligence-powered solution for all of your picture editing requirements. VanceAI elevates your editing experience by providing you with a plethora of sophisticated tools. Improve the quality of your images with AI Enhance, which automatically enhances details, reduces blur, and removes noise with a single click. Using the AI Remove function, you can easily remove undesirable items or watermarks, guaranteeing a clean and professional appearance. With AI Restore & Colorize, you can restore new life to old and damaged photographs, giving them new vitality. Using the Crop & Resize tool, you can precisely crop and resize your photographs, resulting in great compositions for social media postings. Don't forget about the many filters available to create distinctive and striking effects to your images. VanceAI makes picture editing simple, letting you to express yourself and generate spectacular results.
Conclusion
VanceAI Art Generator lets you unleash your creativity by translating words into visually breathtaking creations. You may freely explore your creative idea with adjustable settings, HD support, copyright ownership, and data security assurances. If this HD is insufficient, you may use VanceAI Image Upscaler, which can magnify photos up to 8x in seconds. Both of these features are also supported by software downloaded from VanceAI PC. Don't pass up this chance to test VanceAI Art Generator and produce amazing artwork that will last a lifetime. Today, let your imagination go wild!
Also Read : Explanation Why You Should Get An Artificial Intelligence Certification