Top 5 Latest Earphones For Workplace In 2021
Of all the places in the world, you definitely do need your earphones the most at your office. Especially if you are someone who depends on music to concentrate, then having and using earphones at the office is a natural choice.
They are a great way to build an optimum environment around you which is distraction free and full of your favorite beats. This makes you finish your job quickly and ensures that you stay focused while you are at it.
But workplace earphones need to be versatile. While you should definitely be able to use them while at work, it doesn't mean that they are only for work. You should be able to use them while commuting to work, while at home watching a video or at the gym!
Meaning that they should be useful outside the office as well. While many people have started using earbuds now, they come with their own drawbacks. People generally lose them because of their small size or the battery backup is not that great that they cannot last a day!
Hence, when buying earphones for work, it is advisable to check for a few things like type, connectivity, battery (in case of wireless earphones) and so on!
But if you want our suggestion, here is a list of some workplace earphones that you can consider buying in 2021:
Sony MDR-AS210
Perfect for those who get a lot of calls or need their favorite beats to concentrate, these open-ear earphones provide you with a secure fit! Adjustable loop hangers clip to your ears and ensure that they stay in place, all the time!
They are not wireless earphones but support a 1.2m cord that facilitates easy movement. This way you do not get distracted by reaching out to your earphones all the time, just because they won't stay in place.
Equipped with a 13.5mm driver, these earphones deliver punchy music that keeps you energized and motivates you to keep on pushing onwards. And don't worry about rain or sweat causing them any harm as they are sweatproof.
boAt bassheads 152
Show off your stylish side and groove to your favorite tunes all the time as the perfect workplace earphones are here! Available in vibrant colors like active black, jazzy blue, and raging red, these earphones support a trendy look.
The 10mm drivers allow you to vibe to your tunes with fantastic bass-heavy beats that drown outside noise and create the perfect working environment for you! You can wear them easily while working or while traveling to work, as these earphones know how to keep you pumped up. They produce HD sound that is crystal clear audio that will leave you all amazed. The in-built microphone with high sensitivity and versatile frequency range allows you to communicate hands-free on calls. You can even activate voice assistants with a single click!
Oneplus earphones
Sleek, stylish and superb – these earphones are great for you to enjoy your favorite tunes without any interruptions. The three in-line remote control buttons allow you to take charge of your listening experience and enable you to take seamless calls.
The internal advanced DAC technology adds a vibrant touch to your audio. The speakers are equipped with high quality film diaphragm that make the audio more realistic and immersive. They are perfect to forget the ambient noises and allow you to just enjoy your tunes without getting distracted.
And whenever you want to join in that last-minute call, you do not have to struggle with untangling your wires, as they come with a flat-wire that is tangle-free and is threaded with a tough karbon fiber.
JBL Quantum 50
JBL is a brand which holds a reputation for making excellent audio products. And this product is not an exception. Ergonomically designed with the twistlock technology and ultra-soft silicone material, these earphones can be worn for a long time. ensures a secure and comfortable fit. It is designed to do justice to every note and sound.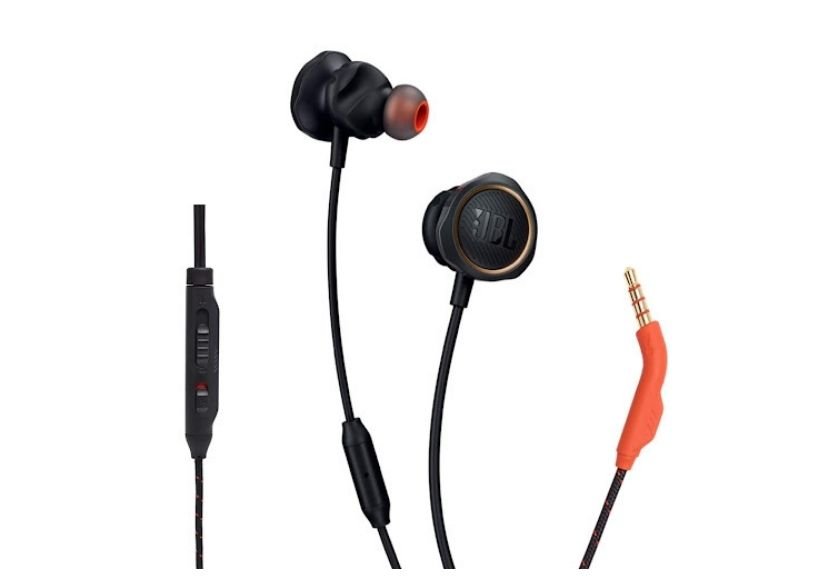 Powered by 8.6mm drivers, they produce JBL's signature QuantumSOund that transcends you to another world. It comes with a separate master volume slider, mic mute and multi function button makes managing your listening experience simple.
boAt rockerz 385
A perfect blend of technology, beauty and comfort, these bluetooth earphones are quite versatile.
The 13mm drivers pump out music that is just amazing. With these earphones, not only will you listen to music in the best quality, but also receive disturbance free calls as they support cVc noise cancellation. This means crystal clear call, every time!
There's another interesting feature that makes these earphones the best workplace earphones – It supports dual pairing function. Which means that you can connect two devices simultaneously. This means that you won't have to instantly connect your earphones to your mobile phone while you are watching a video on your laptop and want to attend an urgent call. They offer a playtime of up to 29H with a single full charge.
Hope that this list of workplace earphones was helpful and you have found the ones that suit your budget and requirement.
Also Read : What Types Of Headphones Are There And Which Ones Are Right For You?