The Gaming Mobile With The Best Power/Price Ratio: We Tested The New Poco F4 GT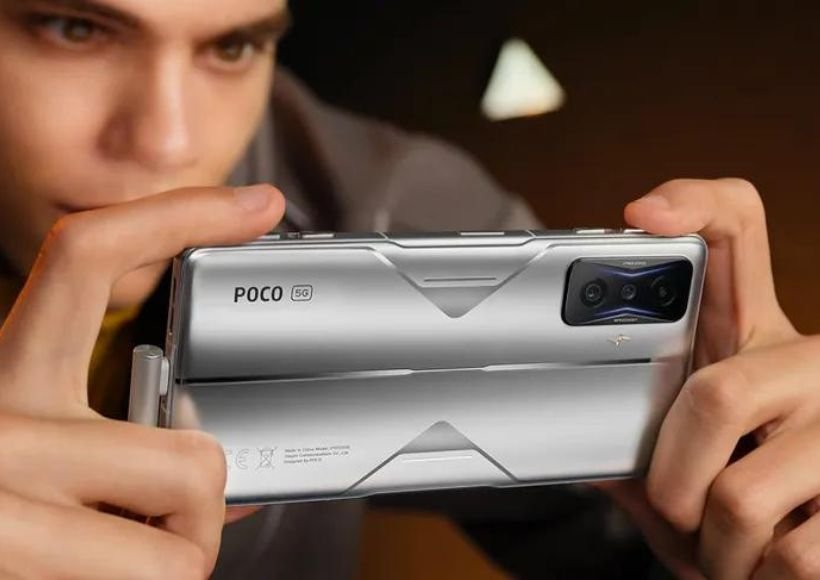 The Poco F4 GT is the gaming bet of Xiaomi's sister brand, standing out for its processor, its 120 W load, and its high performance, despite having a relatively low price, especially compared to other gaming mobiles.
When we talk about Poco phones, they are usually cheap models, in which the price is the determining factor of the device. They are traditional models shared with other Xiaomi sub-brands, such as Redmi, seeking to offer a good experience without spending much. Models like the Poco M4 Pro, with a starting price of 219 euros, fit perfectly with this philosophy.
What doesn't come to mind when we think of Poco is a true "gaming monster," with the best processor on the market and performance that even outperforms leading Xiaomi models. And yet, that is just what it has launched with the Poco F4 GT, with a starting price of 599.99 euros.
A "gaming monster."
The Poco F4 GT is the most powerful model ever launched by the brand, a device that perhaps stands out too much compared to the rest of its range, but when you use it, you soon forget that you are using a Poco, not a Xiaomi, for example. The priority has been to offer a package as attractive as possible to enthusiasts, who may not give so much importance to aspects that they consider secondary, in favor of raw power.
And boy, does this mobile have power. Use the most powerful processor available on Android, Qualcomm's Snapdragon 8 Gen 1; it is the only Poco model to use it. Until now, only Xiaomi's "mother" brand had used it. However, I think Poco's implementation outperforms Xiaomi's in some respects.
I'm not kidding. In some of my tests, despite using the same processor, the Poco F4 GT performed better than the Xiaomi 12; Poco's representatives confirmed that they expected those results for various reasons. In synthetic tests such as Geekbench, the Poco obtained an identical score to the Xiaomi 12 in one core but beat it in multicore performance, inferring that the mobile can better exploit the possibilities of the new chip in multitasking and applications that require several threads. In 3DMark, the story repeated itself, although the difference, in this case, was just two fps on average in the Wild Life test.
In video games, which is the main objective of this Poco, it is where I noticed perhaps the most difference; not so much in the number of frames per second, which was similar, but in the stability of the system. In other words, games on the Poco F4 GT ran more stable and maintained frame rates for longer; there were fewer 'jumps,' and the experience was somewhat superior.
I want to clarify that the differences were not incredible; they couldn't be using the same processor after all. But when I noticed that the Poco had an edge was in long gaming sessions. For example, when I repeated the tests several times, the Xiaomi 12 lost performance while the Poco maintained it.
The key, I think, is in the refrigeration. The Poco F4 GT is thicker than usual for a top phone, but I suspect Poco has used the extra space to better cool the Snapdragon 8 Gen 1, a processor infamous for getting hot. In models like the Realme GT 2 Pro, we have seen that this heat affects performance since the system does not dare to 'force' more for fear of causing damage to the device.
My suspicions were confirmed when I picked up the device while doing the tests: although it was hot, it did not reach the level of other mobiles with the same processor (at least, I did not burn my hands). I think that's where the real advantage of this Poco implementation lies, in superior cooling and algorithms, allowing for more extended gaming at full power. Little boasts LiquidCool 3.0 technology, with a 4,860 mm2 dual VC cooling system.
The result is evident in all kinds of games. In Genshin Impact, the Poco F4 GT maintained a stable and playable frame rate without any problems. In Call of Duty, the experience was as good as it could have been, and in PUBG, it was able to display the graphics in high resolution. In all the games I tried, the experience was excellent.
The screen helped that experience. It's a 6.67-inch AMOLED panel, big enough to hold with both hands but not too bulky in your pocket. The refresh rate reaches 120 Hz, but more importantly, the touch sampling rate is 480 Hz (that is, it records our touches at a rate of 480 times per second), making our games more responsive to our orders; we have no excuse if they kill us.
In addition, it is an exemplary screen without standing out too much in any aspect. The treatment of colors is appropriate, although not exceptional; it will be able to display the games as they should be said, but nothing more. The 800 nits brightness is good but not the best in the industry or the manufacturer, so performance when displaying HDR content suffers. All in all, you can watch movies without problems, it's just that it's not the best in that respect. I liked the stereo speakers, although you may cover them with your fingers due to their location.
Buttons that appear when you need them
And why would you cover the speakers when you pick up your mobile to play? Because this Poco F4 has one of the most attractive features for gamers that I have seen so far: two top buttons, which work like those of a console controller.
Usually, the buttons remain hidden so as not to be a nuisance; for them to appear, we have to activate their respective switches next to them, which release them magnetically. It's a very cool action, primarily since it produces a mechanical sound; it is as if you have activated something important. With the buttons uploaded, they will behave like any other, with the difference that we can use them within games or the mobile interface.
Like other Xiaomi, this mobile has Game Turbo, an application that remains in the background when we run a game and that offers us direct access to other apps (such as messaging) or functions such as recording the screen or activating the "do not disturb" mode. " A new process allows us to assign the buttons to positions within the game; It's effortless. When we activate it, we only have to drag two icons to the touch zone we want to assign the buttons. For example, we can map the right mouse button to the touch fire button in an fps game and the left mouse button to aim; or we can assign powers or special abilities in other types of games. It is similar to using a remote control, with the possibility of setting buttons to touch areas of the screen.
These buttons can change the way you play, especially if you usually play on a console or PC; I don't usually play much on mobile, and they have helped me shoot and aim correctly in games like Call of Duty. I won't say I got MVP for it (although I did), but they are a helpful addition.
In addition, these buttons can also be configured to perform actions even outside of video games. For example, we can activate the camera when pressing a handy button, turning on the flashlight, or activating silent mode.
Discreet And Essential In Some Sections
The Poco F4 GT is a mobile designed for gamers that barely costs 600 euros. That should be the clue you need to realize that it is not a leading mobile. For example, I have already said that it is thicker than usual, and to that, I have to add that the quality of manufacture and design will not surprise anyone.
On the outside, the plastic commands and the sensations in hand are those of a cheap mobile, although surprisingly light for the cooling it has inside, weighing 210 grams. But if you're expecting luxury, you won't find it here, nor will you find flashy design. A very original and aggressive look usually characterizes gaming products, and that is why I am surprised to have come across a sober design with engravings on the back that are barely noticeable, at least in the gray version that I have been able to try. . Perhaps in the performance in the yellow color of the Poco brand, it will be a more striking mobile.
We also have to make some sacrifices in terms of technology. For example, we have a fingerprint reader, but it is not under the screen but integrated into the power button, like models that cost several hundred euros less. It is evident that it has been done to cut costs, but the truth is that many people prefer this position, and the reader works well.
The cameras will not surprise anyone either, although they are not necessarily bad. The primary sensor is 64 MP and can take photos with adequate quality, but something far from what is possible with a Xiaomi 12, for example. Low-light performance is a bad thing, precisely, but in any case, it is not the worst camera in the world. It is accompanied by an 8 MP wide-angle with a 120-degree field of view, and while that is good, the quality of the photos is not unless you have the best lighting possible. Interestingly, I liked the macro camera better, which has obtained unique details even in low light. Finally, the front camera is 20 MP and takes good selfies, although, in portrait mode, it took a while to differentiate my hair from the background.
The Fastest Charging
Therefore, we can say that the Poco F4 GT has made some sacrifices to get an attractive price. But what we cannot ensure is that the battery is one of those sacrifices. The 4,700 mAh capacity may not be the largest on the market (in fact, it's on the low end compared to other Pocos), but it has the fastest charging on the market so far.
With a power of no less than 120 W, this is one of the mobile phones that takes less time to fully charge, with technology only available in mobile phone of the highest ranges. Poco promises 100% charge in just 27 minutes, and in my tests, it has come very close, taking only half an hour (the performance will depend on several factors such as load, temperature, and battery life).
The dual-cell battery system promises a "completely safe" charging system; algorithms minimize time spent charging in the 80-100% range, the most critical for battery life. And yes, the charger comes in the box, so we do not have to buy anything separately to enjoy these advantages.
Of course, we can use the charge while playing, so we never have to leave the game. To make it easier for us to play while charging the device, the cable included with the charger has a different connector than usual, which allows us to put our hand on the device without the hassle of the thread. However, the bad thing is that this connector is a little more challenging to remove, and I have been afraid of breaking it if I pull from the wrong place. The good thing is that you can probably also charge your laptop and any other device with such power with only this charger.
The Power You Need
The Poco F4 GT is a surprising launch for the company, probably changing the plans of many users who had planned to buy a high-end mobile to play.
You no longer have to spend the maximum to get excellent performance with the most potent processor, and I liked the implementation of Poco more than those of other brands due to the improved cooling and the algorithms that seem to get more out of the processor. The addition of buttons is also welcome and will be very useful both in games and outside. On the other hand, this phone looks cheaper than it is, and I wouldn't recommend it if we like to show off or have an original style, nor would I recommend it if photography is a priority.
Compared to other gaming phones, like the Asus ROG Phone 5, it also lags in design and dedicated apps. The interface is still MIUI 13, without any change compared to other Xiaomi phones. This mobile is for what it is, to play, and if that is what we want, it may well be the best option or, at least, the one with the best power/price ratio.
The Poco F4 GT will be available in black, silver, and yellow, in two variants: 8 GB of RAM and 128 GB of storage, priced at 599.99 euros (at Amazon and the Poco store), or with 12 GB and 256 GB for 699.99 euros (also in Media Mark). In addition, we can get it with a discount of 100 euros until April 29.
Also Read : All About The Latest Xiaomi Redmi Note Series: Redmi Note 11 Pro