The secret To a Successful Logo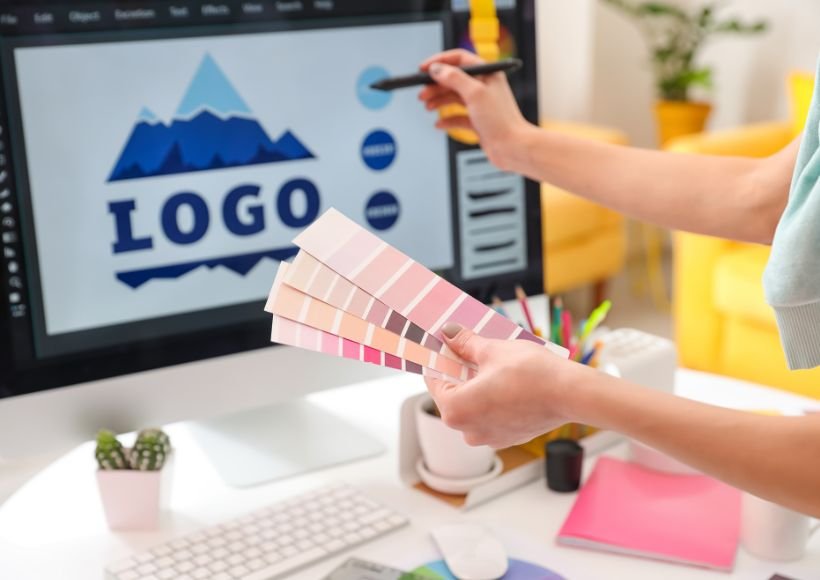 One of the important parts of this process is the design of an attractive logo that will represent you visually in the long term. How to approach creating a logo, what to watch out for, and why is it worth enlisting the help of a designer or an agency? We will also try to answer these questions in this article.
What is a logo, and why do you need one?
The logo represents the absolute basis of the brand's visuality. It is an important part of the promotional style of the company and is identifiable across all brand visual elements. It allows you to differentiate yourself from the competition and create a thought shortcut associated with your brand, product category, or a specific feeling in the minds of your customers, business partners, and the public.
Many consider a logo the most important part of a brand's visual representation. And they are right. However, the visuality of the brand is much more complex, and an experienced designer knows that just a logo's is not enough. The logo is the basis for the visual identity, representing an extensive system of colors, fonts, and symbols representing your brand externally.
Before you start creating
Before you turn on your computer or grab a pencil and start drawing the logo representing your brand for years to come, think about what it should convey.
It is very important for the designer to be clear about what brand he is creating the logo for, what makes the brand special, what category it operates in, what its mission and values ​​are, but also where it is going. Without sufficient knowledge of the brand, he cannot create a graphic representation of it that will be functional in the long term.
Basic approaches to creating a logo
At the most general level, we can divide logos into two groups. Typography (a logo using a specific font without pictorial representation) and pictographic (a logo using only a pictogram or combining a pictogram and typography). When creating a logo, it is important to consider its basic shape, technical specifics, limitations, and usability.
The designer's role in the creation process is to think about the different situations in which the logo will be used and adapt it to express the same idea and act consistently in all circumstances.
Among the primary challenges that a designer faces when creating a logo can include:
Decision on the type of logo (typographic or pictogram logo)

Color decision

Judgment on the used typography

Consideration of logo application options (application for cars, clothing, product packaging, business cards, website, mobile application, and many others)

Consideration of readability and distinctiveness

Review of trends in the category

Review of the competitor's approach
Typography
The choice of font for your logo should be based on pre-defined brand values ​​and mission. It should also influence the feeling you want to evoke in the recipient after viewing it. The typography used significantly affects the final appearance of the logo, so pay a lot of attention to it.
We generally distinguish two basic fonts: serif fonts (so-called Serif ) and sans serif fonts ( Sans Serif ). Brands mainly use serif fonts to evoke an air of premiumness, conservatism, reliability, and respect. A specific category of serif fonts is the so-called Slab Serif, a serif font in which the characters end with a line. This type of font should convey a feeling of solidity and self-confidence. It is used, for example, by Sony.
Even in this category, however, you have to choose very carefully. Remember, e.g., the Comic Sans font, which looks very comical even though it falls into popular sans-serif fonts.
Companies aiming to appeal to the audience with the idea of ​​creativity, playfulness, and positive emotions can also reach for the so-called Script fonts (written fonts). Although they are very popular, they must be handled with extreme care. They are used, for example, by Disney, Coca-Cola, Johnson&Johnson, and Ford.
To find your way around more easily, you can be inspired by the statement of the designer Ryan Ulrich, who chooses the font according to this rule:
Logo color
The simplest view of color comes from the standard distribution of colors based on the so-called color psychology. While this reasoning may be correct, don't limit yourself to it. Choose colors based on what suits you with the brand based on its values ​​and category.
Do you want to induce a feeling of peace and a relaxed atmosphere? Go for pastel tones and non-aggressive colors. If, on the contrary, you want to create a sense of activity, courage, and strength, then focus on contrasting, strong colors – red, black, and orange. Brands that want to appear ecological or natural can depict their logo in earthy colors – brown, green, beige, and premium brands in gold, black or dark blue, or burgundy.
If you are not afraid of challenges, you can also combine colors into a so-called gradient (color transition). This will create a modern look, but it is necessary to consider its possible limitations. The rise is a trendy thing that may seem outdated in ten years. At the same time, it can represent a limitation in the application, e.g., for clothes.
What are a logo manual and a design manual, and why do you need them
Successful brands know that for good memorability, it is important to keep the visual identity uniform, consistent, and, if possible, unchanged over time. For your brand to always have the same effect, you should define the use of visual elements in the identity in the so-called logo and design manuals.
Logo manual
The logo manual is a strategic document that defines the basic rules for using the logo. Its creation will allow you to maintain the visual consistency of the brand. Adhering to uniform standards, applications of emblems, fonts, and colors during presentation create a consistent design that promotes brand awareness in the minds of your partners, employees, customers, and the general public. The logo manual is important mainly because of your flexibility.
Basic parts of the logo manual:
The basic version of the logotype

An additional understanding of the logotype

Minimum size of the logo

A protection zone of the logo

Construction of the logo

Prohibited applications of the logo

Allowed applications of the logo

Color (basic and complementary colors)

Typography (basic and complementary font)

Wallpaper (if relevant)
Design Manual
The design manual is a document that contains the basic rules for the creation, application, and use of the brand's visual identity. It defines the appearance of the standard online and offline marketing tools that the company uses. Its compliance ensures the consistency of brand perception and communication. Depending on your brand's visual means, it is necessary to include different materials (appearance of letterhead, business cards, car, shopping bag, interior and exterior of stores…)
Sometimes, the logo and design manual is combined with the brand's mission, vision, mission, and values ​​into a comprehensive document, which we refer to as Brand Guidelines or Brandbook.
Why hire an expert for a logo
As an agency, we have been active in advertising and branding for almost ten years. We have encountered a well-designed logo from a "non-designer" only sporadically – if at all.
If you are serious about your brand, invite the help of an expert who has the necessary graphic skills, a comprehensive view, and, above all, experience. As I already mentioned, the logo is only the basis on which the entire visual identity must be built, so it is necessary to look at things comprehensively when designing.
The fact that he can get much more out of a logo than a non-specialist also favors a professional designer. He has studied your brand, thinks ahead, and can propose a solution that will represent you reliably and long-term. It also does not forget about the protectability of logos or outputs in various formats, which you will certainly appreciate in the future.
Also Read : When Should You Use The Services Of a Tax Advisor?