How To Create A Communication Strategy For Your Company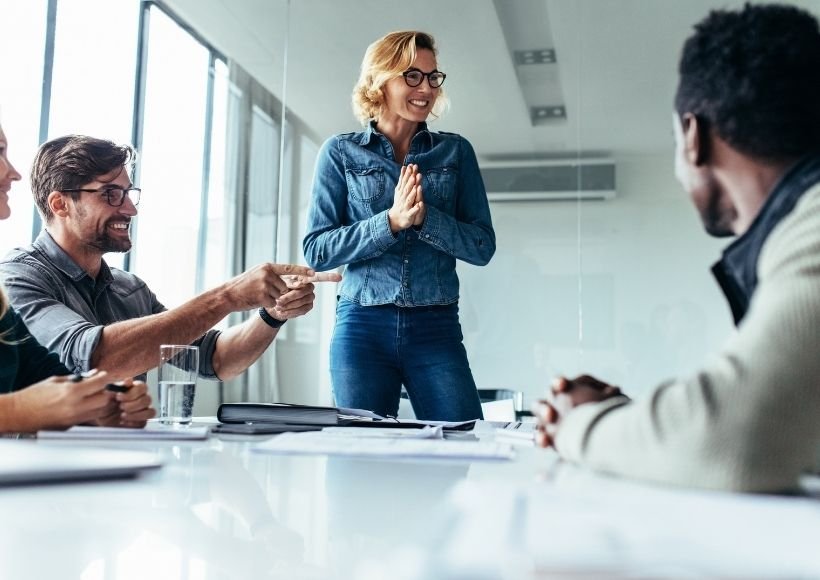 Doing business without a strategy is like sailing on a wooden raft and hoping that the wind will take you all the way to sunny Hawaii. You wouldn't risk it with your own life, but you will let your business run without a strategy in the blink of an eye. Change it here and now. There will be no better opportunity.
What is a communication strategy?
The answer to this question is quite extensive, so we should rather ask what is not a communication strategy. This is not a guaranteed way to get the company to prominence. Nor is it a short-term or cheap affair.
The communication strategy that fulfills its goal must be sensitively set with regard to the company's vision, its ambitions, and the target group. Communication strategy is everything that concerns your company, from the oldest Instagram post to an banner advertising for several thousand.
Set a goal
Goal setting is a step you must not skip when creating a communication strategy. With a clearly defined goal, you can find out what you need. Not every brand needs to present its products on social media. If it's more important for you to build a relationship of trust and honesty with your followers, share your advice, opinions, and accomplishments with them. There is no single right goal.
Learn from others
A reasonable person will learn from his mistakes. A successful entrepreneur learns from the mistakes of his competitors. Don't be ashamed to hang on to their heels and watch carefully how they treat their customers in both the online and offline worlds. It can be a valuable experience for you.
Competitive analysis is an important part of a communication strategy. Before you definitely decide what content and in what form you will communicate with your customers, go through the social networks of your competition. Find out what type of content falls into your sector and what channels it can reach people. Penetrating a competitor's communication strategy will help you set up a strategy that is unique and clearly distinguishable.
Communication is not just about words. They are also colors, for example. Each color symbolizes something different. Color identity helps to express a company's values. Make sure that the colors in your logo, your work uniforms, the packaging of your products, and the posts you try to connect to your social media target clearly express the impression you are trying to create. Here, too, the competition analysis will help you. Do you have a family patisserie? The easiest way to find out what colors are related to desserts is to dig into the social accounts of other confectioneries.
Who are my people?
It's already been heard here. Target group or "target" for short. Is this a group of people waiting at the finish line to congratulate you on your victory? Not. She is the goal. As an entrepreneur, you have to do everything you can to get it. It's not always honey to lick, but with the right communication strategy, you can handle it.
In order to communicate effectively with your target, you need to know who makes it up first. How do find out? One option is to look at all the social profiles of the people who bought from you one by one. Since we do not live in the Stone Age, we assume that you do not want to lose all youth by analyzing your goal.
Fortunately, there are social networks with their metrics and statistics. You'll get demographics about your fans (and perhaps your customers) in seconds.
Focus your attention primarily on gender and age. If you are a little closer to your customers, you may be able to find out their financial condition and interests. These are all key figures without which a communication strategy can never work 100%.
Communication with customers
Finally, we come to the part where we talk about the middle ground. Sometimes you have to bite your tongue or pour ash on your head, but in the end, it's always worth it. A serious approach is a proof that you are an expert and an elite.
Communication with customers is based on the data you have managed to collect about them. The relaxed style with tickling is suitable for a younger target, but it is not the only criterion. It also depends on the way you want your brand to be presented.
Do you want to act as a good friend with whom you would speak without hesitation or a serious professional who builds his relationship with the goal based on experience and expertise? It's up to you. The words you use to speak to your target will reveal a lot about your business identity. Therefore, choose them with caution.
Conclusion
Strategy. We firmly believe that you did not sigh as you read this word: and why? Communication strategy is the driving force behind the success of any company. Look around you. Every company that has made it somewhere has a clearly defined communication strategy. Nothing happens by accident. There is no room for improvisation in the business world.
Also read: 7 Best Ways To Link building In 2022