What is Gorilla Glass, And What Makes It Better Protect The Screen Of Your Mobile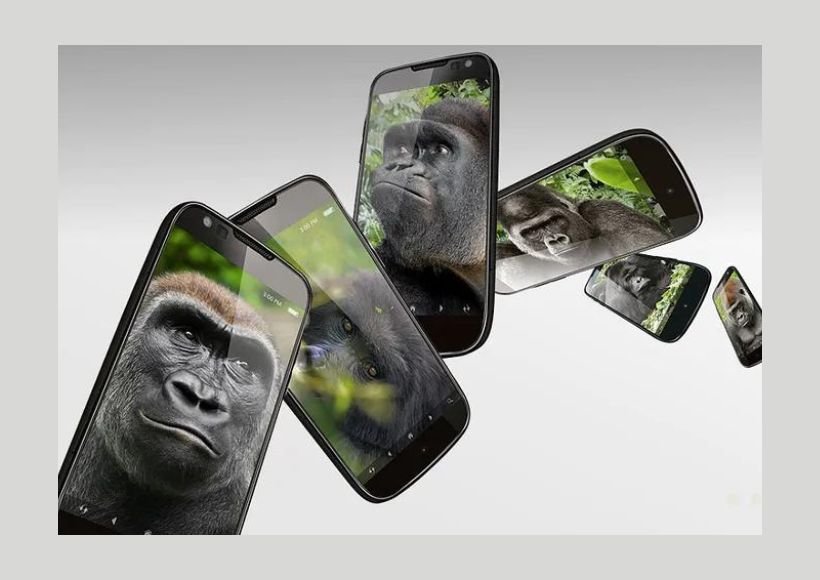 Gorilla Glass is a type of glass that is present in a large number of electronic devices. Its composition, developed by Corning based mainly on aluminum, silicon and oxygen, makes it a very resistant and light glass.
In 2007 the first Gorilla Glass for mobile phones was launched. In the last decade, this type of protective glass has been growing, going from being present in 400 million devices and 500 different models in 2011 to being part of 7 billion devices, 7 billion Americans, and 2,400 models in 2019.
There are different types of Gorilla Glass, and depending on the type and thickness, its protection against breakage and scratches will be more or less efficient.
Gorilla Glass is also used in other sectors:
medicine: for the manufacture of laboratory material and tests, for example;
telecommunications: for the manufacture of optical networks;
the automotive industry: for the manufacture of interior screens, windows and sunroofs;
architecture and interior design;
and so on.
Let's see each of the characteristics of the eight types of Gorilla Glass that exist:
Types of Gorilla Glass
Since 2011 Corning has launched new versions of its glass, improving and adapting each one to the needs of the technology market and users. Thinner, more resistant, antimicrobial glass…
Gorilla Glass Foods
According to the company itself, it is the most resistant Gorilla Glass for both falls and scratches. This is the most current version of this glass, launched last July. In laboratory tests, this resistant glass has passed drop tests on rough and hard surfaces up to 2 meters.
Its thickness can vary from 1.2 mm to 0.4 mm. It is a protective glass that can be used, both on the front and back, in many devices such as mobile phones, PCs, tablets, smartwatches and wearables, smart appliances, etc.
Gorilla Glass 6
Launched in 2018, this glass is resistant to drops of 1.6 meters on rugged and rough surfaces (we always talk about laboratory tests). It is also highly resistant to scratches and impact damage.
It is mainly used in smartphones, wearables, laptops, and tablets.
version 5
Released in 2016, Gorilla Glass 5 passed lab tests for drops from 1.2 meters. Its thickness can vary from 0.4 to 1.3 millimeters.
It is mainly used to manufacture screens for smartphones, laptops, and tablets. It is also present on other touchscreen devices and some wearables.
Gorilla Glass 3 y 3+
Version 3 of this resistant glass was introduced on the market in 2013 when there were already more than 1.5 billion devices with this type of glass, with 1,000 different models and used by more than 40 manufacturers.
Its atomic configuration is formulated to create a more complicated and resistant glass, improving scratch resistance four times compared to other manufacturers' aluminosilicate glass.
In addition to being used in electronic devices, Gorilla Glass 3 is applied to manufacture optical components and high-strength glass items. Its thickness can vary from 0.4 mm to 2 mm.
Version 3+ hit the market in 2019 specifically formulated to improve drop protection for entry- and mid-level smartphones.
In laboratory tests, Gorilla Glass 3+ withstands drops of 0.8 meters on rugged and rough surfaces. In this way, it is a more affordable solution to protect the screen and avoid one of the main problems that come with losing the transferable warranty: accidental falls.
DX and DX+ version
In 2018, Gorilla Glass DX and DX+ crystals appeared on the market, which improved optics and scratch resistance. These versions were released to reduce the sunlight readability problem that most glass covers present.
DX and DX+ feature a 75% improvement in front surface reflection compared to standard glass and increase the screen's contrast ratio by 50% at the same brightness level.
Gorilla Glass Vibrant
The Vibrant version allows mobile phone manufacturers to add high resolution and colorful images to the glass cover of their devices. This will enable you to customize the design of phones, tablets, or laptops, including the brand logo and images with gradients… Regarding screen printing, Vibrant Gorilla Glass allows exceptional resolution and sharpness in the images used on the covers.
antimicrobial
As we said in our article on how to disinfect the mobile, many bacteria live on the surface of the mobile. The more we use it, the more we expose the touch surface to these organisms. Antimicrobial Glass is infused with silver ions that kill surface bacteria.
Antimicrobial glass as a cover for mobile phones and other touch devices can help protect the user from bacteria. However, as Corning Inc acknowledges in the face of the current COVID-19 pandemic, it does not protect against viruses or other infectious agents.
benefits of using glass in device covers
In addition to the qualities that high-resistance glasses such as Gorilla Glass have to protect mobile devices from one of their main problems (falls and scratches), the use of glass in covers has another series of advantages.
It has been shown that the use of glass in mobile phones, in addition to allowing a design and finish of high aesthetic value, optimizes the wireless charging function present in high-end phones from leading manufacturers.
Metallic finishes consume some of the energy generated by the charging platform and convert it into heat. As a result, transmission losses of said energy and the charging time and temperature of the device increase. With glass covers, however, the magnetic field transfers power directly from the charging pad coil to the smartphone coil with almost no loss.
In addition to wireless charging, using glass as a cover for mobile devices represents advantages over metal finishes for 5G connections. This is mainly due to the increase that this technology will entail in the number of channels and frequencies that will require more fantastic performance from the antennas.
What devices have Gorilla Glass-covered?
As we said at the beginning, today, more than 7 billion devices have this type of glass. It is used in 2,400 models from more than 45 technology manufacturers worldwide. It is mainly found in high-end equipment.
best known devices can be highlighted:
Sony devices with Gorilla Glass
Xperia 5 and Xperia 1, with Gorilla Glass front and back,
Xperia 10 and 10 Plus, Xperia 8,
Xperia XZ3, Xperia XZ2, Xperia XZ2 Compact, Xperia XA2, Xperia XA2 Ultra, Xperia XZ1
Xiaomi Devices and Mobiles with Gorilla Glass
Huawei Devices and Smartphones with Gorilla Glass
Honor V9, Mate 9 y 9 Pro,
Ascend Mate7, Ascend P7, Ascend P6, P9 Plus, P9,
Honor V8, Honor 8, Honor 7, Honor 6 Plus, Honor 6
Xiaomi Devices and Mobiles with Gorilla Glass
Mi 10, Mi 10 Pro and Mi Note 10, with Gorilla Glass front and back,
LITTLE X3 NFC and LITTLE X2,
POCO M2 Pro and POCO F2 Pro,
Redmi 10X 5G, Redmi 10 5G Pro,
Redmi Note 9 Pro, with Gorilla Glass front and back,
OPPO phones with Gorilla Glass
OPPO A5s, OPPO A1k, OPPO A9X,
Reno5 Pro+, Reno5 Pro, Reno5,
Reno, Reno 5G, Reno 10x zoom,
A53, A12, A9 2020, A5 2020,
Find X2, X2 Lite y X2 Pro, K3,
Samsung phones with Gorilla Glass
Galaxy S21 Ultra 5G, S21+ 5G y S21 5G,
Galaxy Note20 Ultra, with Gorilla Glass front and back,
Galaxy S20 Ultra and S20+, with Gorilla Glass front and back,
Galaxy S10, S10 Lite y S10+,
Galaxy A20, A40, A70, A80, A30,
Samsung Devices and Smartwatches with Gorilla Glass
Galaxy Watch Active, Active2,
Samsung Gear Sport, Gear Fit2 Pro,
Galaxy Chromebook (2020),
Galaxy Tab S7 y S7+,
Galaxy Tab S6
If you want to know if your device has a Gorilla Glass protective glass, consult the following list: see list .
Also Read : All About The Latest Xiaomi Redmi Note Series: Redmi Note 11 Pro