Best IPHONE Apps For Your Health And Fitness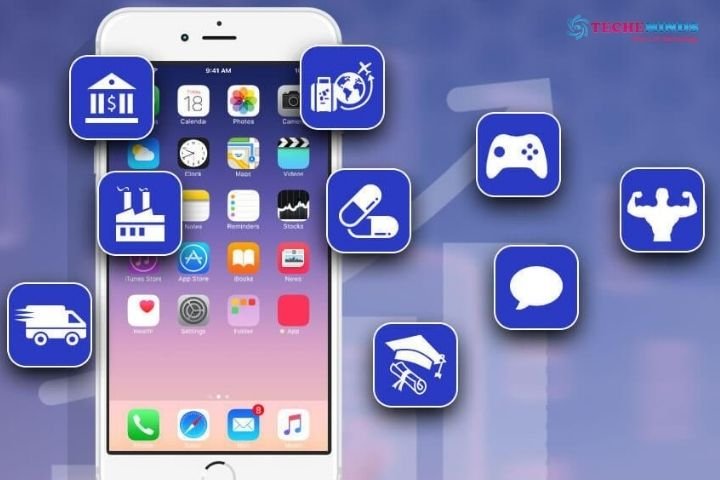 If you're trying to lose weight, improve your fitness, eat better, or reduce stress, your iPhone can be a useful tool, especially if you have the right app. We browse hundreds of apps to find the best iPhone health apps to help you stay fit and healthy.
Weightloss
We start with this category since it is the most sought by users. The benefits of exercising aren't limited to forcing yourself to go for a run. The following applications have been designed so that you also have fun trying to achieve your goals like winning virtual medals and real prizes.
Nike + Training Club
The official Nike app has a library of 30-45 minute exercises based on your goals and fitness. The most important thing is that this application shows you how to do each exercise with videos and even allows you to share achievements on social networks.
Carrot Fit
Carrot is an artificial intelligence product that does the impossible to make you move. He may even ridicule and blackmail you. It has an option called "7 minutes in hell" in which it forces you to do 30 seconds of 12 different exercises. Our colleagues at DT (English) wrote a review about it.
Argus: Calorie Counter & Steps
Argus is a health app that tracks your sleep, heart rate, calories, and more. The application offers challenges and training plans. You can add the food you eat by scanning the barcodes, in order to have control of the calories you eat.
Lose It! Calorie Counter
This app monitors what foods you eat and what activities you do. By giving your weight, height and age, and indicating if you want, gain, lose or maintain your weight, the application tells you how many calories you should eat per day and will also indicate how many you have burned.
My FitnessPal
This application has a database with more than 5 million foods to choose from, making it much easier to track the calories you consume. It also has a step monitor and barcode scanner so you can track all aspects of your diet. Read DT's review here.
LifeSum: Diet & Food Tracker
The Lifesum app helps you manage your weight by working with Withings and Runkeeper, to give you an assessment of the daily calories you consume. It also comes with a scanner to better track the composition of the food.
Phytocracy
Fitocracy was designed for competitive people. This personal trainer allows you to track your exercises and encourages you to exercise to complete your personal goals under an achievement mode that you can share with your friends, family and the Fitocracy community.
Pokemon Go
This is not a health app, but many players have claimed to have lost weight by having to go out into the real world to walk and catch the Pokemon. It may be more appropriate for people who grew up in the 90s, but if you download it, we will ensure that you will start to walk more than normal.
Cyclemeter
Do you want to lose some weight on a bike rather than on a treadmill? This application will help you to achieve it! Cyclemeter is accurate and great for collecting data. However, you can also track various walking and running metrics, you may not get as much information. However, if cycling is your preferred exercise routine, this is the app for you.
Fitbit Coach
This application creates a training session based on your physical condition. Learn about yourself as you use it. You can choose which exercises you want to do and tell the application which ones you found easy and which ones not so that it adjusts to your level. You can track your overall health through an app like Fitbit, My FitnessPal, and Strava. The application is Freemium and is compatible with the Apple Watch. Some of the features require a subscription to access them and cost between $ 8 and $ 40 a year.
weight Watchers
Weight Watchers has an official app that promises to help you on your journey to a healthier lifestyle and helps you track your progress with your friends. Since the Weight Watchers program is all about tracking points, the app makes it easy for you to enter the things you eat, since everything has points. The free app is compatible with Apple Watch, but you'll need to subscribe to Weight Watchers Online if you want to get the most out of it.
Fit Radio
Music is an ideal workout companion, and Fit Radio is a streaming service specifically designed to maintain a steady pace while you exercise. A premium subscription costs $ 4 a month, but a free subscription is also available, if you don't mind the ads and a limited feature set. However, regardless of the option you choose, you can select music from a genre, a desired BPM or a specific training routine (spinning, Zumba, etc.).
Strava Running And Cycling: GPS Run And Ride Tracker
Strava is an excellent running app that monitors your speed and routes via GPS. It also uses your cardio information to challenge you and keep your competitive spirit alive.
Zombies, Run!
This story is based on Runner 5. Your mission is to help revive civilization by collecting supplies from outside your virtual base. The app tracks your distance, while telling you what to do. Let you listen to your music while you run.
Runkeeper: GPS Running Tracker
Runkeeper uses GPS to map your runs and saves your speed and distance. It has integration with music, so you can listen to your favorite playlists and change the music from that application. It is integrated with the Apple Watch.
Charity Miles
With this application you can run to benefit a charitable organization. For every mile you run, you will earn 25 cents that will be donated to your charitable organization of choice. Those who ride a bike earn 10 cents per mile. However, you will have to share your activity on Facebook for organizations to receive donations.
Map My Run
This app helps track distance, pace, and provides a good summary of your workout that you can save and share. The application also counts the calories burned and the statistics of your profile. The best part is that you can control calls and music while you are in the application.
C25K (Couch to 5K)
C25K is great for beginners and is designed to train non-runners for a 5K run. You can achieve training in 8 weeks if you follow a 30-minute routine every day. The application provides you with a training plan. It integrates with MyFitnessPal so you can track your calories.
Runtastic Running And Fitness
Doctors recommend at least 30 minutes of daily exercise. This makes Runtastic the perfect application for those who enjoy audio books or podcasts while exercising. "Story Running" allows you to download stories for $ 1 and each is 40 minutes long, making it perfect for your running needs. The application is optimized for the Apple Watch.
Nike + Run Club
The best companion for running. Nike + Run Club not only gives you GPS tracking of your runs, but also provides guided workouts. Enjoy weekly and monthly remote challenges to stay motivated, with the voice of a coach that will keep you off the couch.
Yoga
Yoga is no longer an activity for hippies. It has become quite popular, especially because it relieves stress and allows the recovery of old wounds. The following applications will help you to begin to familiarize yourself with this activity, or to innovate your routine.
Daily Yoga
It is made for beginners and offers short lessons with music, along with a library that allows you to do different poses and exercise routines. There are more advanced courses that require a subscription of $ 13 dollars for three months.
Simply Yoga
Ideal for beginners. Simply Yoga guides you through a series of videos that last between 20 minutes and an hour and cover more than 30 poses that you can do in the privacy of your home. When you are ready to move to the next level, you can choose to purchase the full version of the application.
Pocket Yoga
This application comes with more than 200 illustrated and detailed poses using voice audios. Pocket Yoga is a guide that will show you poses and exercises. Additionally, you can watch various practices and put on your own music. The application will tell you what to do step by step.
Yoga Studio: Mind & body
With more than 65 individual classes, lasting between 10 to 60 minutes and various levels of difficulty, Yoga Studio guides you through the different possible postures with classes in HD. It has an extensive catalog made up of more than 280 poses, enough for most people.
FitStar Yoga
FitStar Yoga is a personalized training application that measures your physical condition to adjust the difficulty of the program. Each session contains HD videos as well as audio support. The app integrates with Jawbone UP, Fitbit, and MyFitnessPal. You can also track your progress. You can read more about this app here.
5 Minute Yoga: Quick Workouts For Strength And Flexibility
Don't have enough time to do a short yoga session? If so, this app wants to help you by offering you yoga exercises for five minutes. The app is good for beginners as it offers simple poses with a timer for you to do for five minutes.
Down Dog
One of the best apps for practicing yoga at home, Down Dog offers a studio-style yoga experience. Every time you practice, Down Dog creates a new sequence of movements. Clear vocal instruction and combined playlist provide a seamless and comprehensive yoga session.
Strength Training
Cardio exercises are great, but if you want to really work some areas of the body, you have to lift weights. Although you have to keep in mind that weight lifting can be dangerous if you do not know the proper techniques to do it. But, fortunately, there are numerous applications with enough information about the muscles in your body and how you should exercise them.
GymBook: Strength Training
GymBook is a visually appealing app that tracks your workouts. You can do your own routines, although the application also shows GIFs with 50 preset exercises and how these affect different muscle areas.
FitnessBuilder
The simple application records the number of repetitions you do and the amount of weight you are using. It also has a diverse catalog of trainings. The FitnessBuilder app even lets you keep track of your workouts and see the progress you've made.
StrongLifts 5 × 5 Workout Log
StrongLifts 5X5 is one of the best ways to gain muscle and lose fat, but it is probably too intense for those who are somewhat more inexperienced. The app guides you through three 45-minute workouts a week, targeting the largest muscles in your body for optimal effect.
Iron Gains: Weight Training Log
This application is easy to use and works as a simple log to detail your progress in the gym. You can create custom workouts and exercises, log photos, and enable notifications of your achievements by day and week.
Strong: Workout Tracker And Training Log
Here's another aesthetically pleasing exercise tracker app that allows you to easily add information about your training session. So you can reach or beat certain milestones or achievements and add your own routines to your workouts. It also has a wide range of cardio workouts, but the main focus of the app is on weighted barbell routines such as Starting Strength or Stronglifts 5 × 5
Jefit Workout Tracker Gym Log
Designed for bodybuilders, Jefit keeps track of all your reps, exercises and the weight you are lifting in each case. In addition, it provides a number of different training routines designed for specific muscle groups and allows you to design custom workouts.
Health & Wellness
Eating well is essential. If we also combine a good diet with a little exercise twice a week, we will surely be in shape.
Likewise, sleeping well and resting properly is crucial to feeling active and healthy, but if it costs you a lot, don't worry because here we show you some apps to achieve it.
Sleep Cycle Alarm Clock
Put your phone on the mattress and it will go live while you sleep. This app will provide you with metrics and data on the quality of your sleep and also has an alarm function to wake you up when you find yourself in a lighter sleep.
Sleep Bug
For some, background noise or ambient sound is essential for sleep. Therefore, this application offers a wide variety of ambient noises, ranging from the sound of the streets of a city, to streams, bonfires and torrential downpours, all with a fairly good interface.
Pzizz – Sleep, Nap, Focus
The Pzizz app creates a different soundtrack every time you use it. It uses a randomization algorithm that offers over 100 billion different sounds. Most are sounds and tones that help you fall asleep and increase relaxation.
Headspace: Meditation
This app aims at simple meditation, so that you can improve your concentration and relieve anxiety.
It will teach you the basics of meditation in 10 exercises of 10 minutes each. The application also monitors your progress and you can contact your friends to motivate each other. It also offers additional packages to download and use the app offline, but these services cost $ 13 per month or $ 95 per year. Also, this app is compatible with the Apple Watch.
Sanvello
This is a great app for tracking your daily mood so you can better control your stress and well-being. The application gives you the tools you need to break the cycle of whatever is causing you stress and you can achieve your goals step by step.
Contains deep breathing exercises, positive visualizations, and meditations set with relaxing background sounds. Plus, a built-in health tracker guides you toward your daily health goals.
The app is free to download and use, but you must pay $ 9 per month, or $ 54 per year, for full access. The new version includes a new Feeling Better guided tour with original videos, audio exercises and activities, new educational content based on cognitive behavioral therapy (CBT) and a new home base with dynamic content, allowing you to select immersive experiences .
7 Cups Anxiety & Stress Chat
This is a great app for treating depression and unwanted stress. It provides 24/7 support, so you can talk to someone whenever you want. The therapists in this app are available in more than 180 countries and in 140 different languages.
You will be able to choose one of these therapists, each with their own profile to know in which area they are specialized. The download of this app is free, but it has a subscription starting at $ 13 per month.
Relax Melodies P
If you've ever felt like you needed a good night's sleep, then this app may be just what you're looking for.
You'll be able to select different sounds and melodies to create your own mix, and then you can combine these sounds with a meditation exercise to help you relax and fall asleep.
The application even has the function of creating alarms, so you can also use it as your alarm clock, and it can run in the background.
Also Read : Best Privacy Apps For Your Android Mobile