Competition Between Google Workspace And Microsoft 365 For The Benefit Of Business Users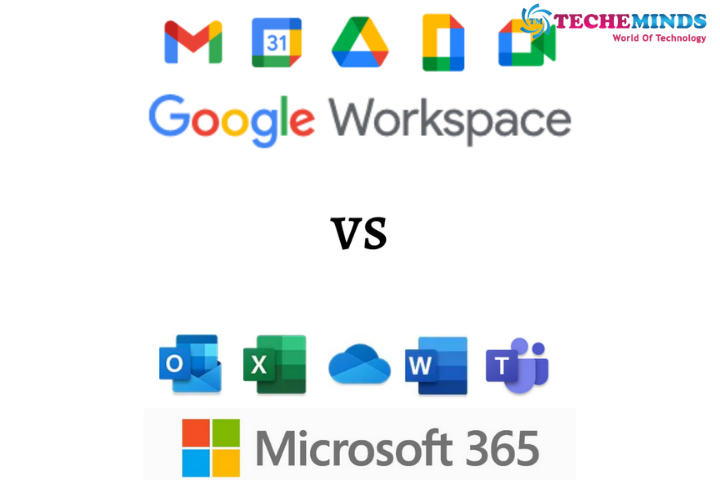 To access cloud IT services, you only need to have a computer and an Internet connection. Modern cloud services created by Google and Microsoft are so functional that they can be successfully used by private users, small companies, and large corporations. Their users will not see the difference where these services are provided, within the corporate IT infrastructure, on a business trip, or at home.
Cloud Collaboration Services By Google Workspace
It provides the necessary tools for solving office tasks, creating and editing documents, spreadsheets, and presentations, planning and organizing collaboration, communication, and interaction between employees. Google Workspace services can be accessed through a web browser and, if necessary, through mobile application.
Note that Google Workspace cloud services were previously bundled under the name G Suite. After the rebranding, users received integrated services with expanded functionality and updated icon designs. The cost of tariff plans has hardly changed.
Free communication and streamlined interaction between employees and customers are at the heart of any business. Convenient and multifunctional email service Gmail provides the necessary functionality for working with email messages. It is possible to use your own company domain in email addresses.
Opportunities have been created for productive communication using the group service Google Chat, as well as voice and video chat Google Meet. With their help, you can discuss various business issues and hold business meetings with remote employees or clients.
Work planning can be done using Google Calendar. Provides the ability to keep calendars for individual employees and groups of people. For independent work and collective discussion, a convenient Google Keep service is offered, where you can create notes and lists. Such notes can contain text, photographs, or audio files. You can set reminders. Google Keep data syncs across all devices.
Cloud search advantages
You can create and edit text files, spreadsheets, and presentations using the corresponding services Google Docs, Sheets, and Slides. They have the same functionality as desktop office systems. Convenient opportunities for collective simultaneous work on documents are offered.
To store the results of the work of employees and the entire office, the Google Drive service provides as much space as needed. The amount of cloud storage is determined by user tariff plans. For storing especially important documents, the Google Safe service is offered, which provides an increased level of data storage security.
Cloud Search provides the best way to find the content you want in your enterprise content. Safe and confidential searches are performed in the data warehouse, mail messages, documents, spreadsheets, presentations, and other services.
Interaction with customers can be organized using the company's website. Google Sites provides powerful co-creation functionality without design or coding skills. Sites are optimized for different screens of desktop and mobile devices.
They can be accessed by the company's domain name. The Google Forms tool will allow you to create surveys for customers and employees in the form of professionally designed questionnaires right on the sites. Provides tools for analyzing results and automated reporting.
Apps Script service is provided for developing business solutions that optimize the work with Google cloud services. It is a low-code platform on which you can create your own solutions without the involvement of experienced programmers, including in the web development languages ​​HTML, CSS, and JavaScript. Apps Script can help you.
For example, generate emails to multiple recipients at once, automatically register attendees for events, or analyze reviews. Provides the ability to integrate external high-tech services, for example, such as Cloud Natural Language for the analysis of voluminous text materials. Effective Apps Script solutions dramatically increase productivity by automating repetitive operations or integrating with specialized services.
Powerful Tools by Google Workspace
Google Workspace has powerful tools for a centralized account and domain management and security. The administrator's console allows you to manage users and their applications, set regions for storing corporate data, use advanced security functionality, such as electronic keys, email scanning, and blocking untrusted applications.
It also provides the ability to build reporting and analyze security logs. Endpoint Management reliably protects data on users' devices running the popular Android, iOS, Windows, Chrome OS, macOS, and Linux operating systems. Depending on the tariff plan, advanced options for managing and analyzing work in Google Workspace are provided.
The Microsoft 365 software product includes desktop software and cloud collaboration services for office workers and telecommuters. It is a whole ecosystem of software solutions for the secure provision of IT services to private and business users.
Note that Microsoft 365 is the new name for Microsoft Office 365 services, which they received after a recent rebranding, during which the capabilities of the services have expanded, but their cost has remained the same.
Microsoft 365 local and remote users can accomplish common office work from desktop apps, web browsers, or mobile apps as needed.
Microsoft 365 Functions
You can compose text documents using the multifunctional text editor Word. As part of Microsoft 365, this application will help you compose literate and logical text using Microsoft's smart Editor and read it out loud with confidence. To work with spreadsheets, you can use Excel, which now offers powerful analytical functions and the ability to integrate with specialized cloud services for data analysis.
PowerPoint can help you create colorful presentations, including using built-in template libraries. Digital Notes and lists are easy to write in a OneNote digital notepad, so you can easily share synchronized content with colleagues. The results of employees' work are securely stored in the large OneDrive cloud storage.
Mutual reliable e-mail communication between employees and customers is easily organized using Outlook, you can connect a company domain. There are opportunities for scheduling work, assigning, and monitoring the execution of tasks. In the Teams app, you can use text chat or a video conference to host an employee meeting, presentation, or webinar for customers. We add that private user of home tariff plans can use their usual Skype. Also, users of home tariff plans are offered Microsoft Family Safety service with "parental control" functionality.
Business users have at their disposal a fully functional system for creating a corporate mail service for Exchange. It is also convenient for large enterprises to create a fully cloud-based intelligent infrastructure solution for messaging and working with calendars.
The SharePoint collection of software products allows you to solve many business problems at once. It provides an opportunity to create internal and external web portals, intelligent search, workflow management, organization of collaboration and informing employees, and the formation of a corporate knowledge base. There is also functionality for analyzing the effectiveness of the company.
Conclusion
Google and Microsoft have created highly demanded quality and secure cloud products that meet consumer expectations. Google Workspace provides concise and full-featured services that have been tested by millions of users. They are preferred for use by small and midsize businesses when compared to similar, more compute-intensive Microsoft 365 services.
Google Workspace services are more in line with the cloud paradigm of providing IT services, which means they are optimal for those users who pragmatically consider information technology only as a tool to achieve business goals.
Also read: The Best Models Of Phones For Visually Impaired People